The Sucking Pit
The dark bog that hid a thousand evil secrets.
"Guy N. Smith, the author of paperback originals beyond counting, has written a novel whose title is my nominee for the all-time pulp horror classic: The Sucking Pit" - Stephen King - Danse Macabre
Hopwas Wood is a place of mystery and for generations, tales have been told about an ancient gypsy burial site deep within.
Jenny Lawson always knew she had Romany blood flowing through her veins and when given a secret book by her dying Uncle can't resist the urge to mix the ancient potions described inside. In a matter of hours the virginal jenny is transformed into a knife wielding nymphomaniac.
Entranced by the mysterious Cornelius, Jenny uses all her womanly charms to persuade the wood's owner to let the gypsy's set up camp on their holy ground. Ex-boyfriend Chris, an investigative reporter, is horrified by the changes in the girl he once loved and embarks on a quest for the truth only to discover the terror that lies deep within The Sucking Pit !
Full on pulp-horror at it's most irresistible.
Guy N. Smith. The Sucking Pit. Collectors Edition. Hard Gore Press / MHB Press 2011. One of only 400 numbered copies signed by the author. DJ artwork and interior illustrations by Rick Melton. Page size Demi (138mm x 216mm). 113 pages. Printed on matt coated Vancouver 115gsm paper. Sewn book block, bound in Colorado cloth with headbands, coloured endpapers and bound in ribbon bookmark with DJ.
GBP£25 / US$40 approx NOW IN STOCK at Mansion House Books
Guy N. Smith. The Sucking Pit. Hard Gore Press / MHB Press 2011. One of only 26 copies signed by the author and artist and lettered A - Z. Interior illustrations by Rick Melton. Page size Demi (138mm x 216mm). 113 pages. Printed on matt coated Vancouver 115gsm paper. This edition is hand bound by British craftsmen using traditional binding techniques to produce a book to cherish for a lifetime. Designed to appeal to not only fans of Guy's writing but also collectors of finely bound limited editions this is hand sewn, fully bound in calf skin leather with foil blocking to front label and spine, raised bands on the spine, gilt edges, handmade marbled endpapers, headbands and bound in ribbon bookmark. With tipped in DJ artwork and housed in a hand made cloth covered slipcase this edition oozes quality!
GBP£195 / US$325 approx Available to pre-order (no pre-payment required) at Mansion House Books
I had my Collectors edition a week ago and it is an absolute beauty! Amazing craftsmanship has gone into it. I LOVE the Colorado cloth, it feels lovely in your hands and the matt coated Vancouver 115gsm paper is just pure quality. The book oozes class and for your money it hits other publishers out the park!
Here are a few thoughts I have about the story and some pictures for you to drool on...
Guy N. Smith? Never read him, yes i'm a little red faced as he is born and bred in England (like me) And yes I am a little ashamed!
I have put this right starting with The Sucking Pit and after finishing this crazy, fast paced pulp-horror I will be looking for more!
I loved the pace of this book, very fast and entertaining, plenty of blood and sex thrown in for the horror lover.
There are a couple of good characters who I liked, Cornelius being one of them, this huge behemoth of a man had my attention as soon as he entered the story. He is like the 'king of the gypsies' and he has much knowledge of gypsy folklore and black magic! He cares for his fellow Romanian gypsies and I like that.
Another character Jenny Lawson ends up finding her uncles 'book of black magic' and tries out a spell not really knowing the consequences and does a complete u turn from her normal characteristics. She becomes sexy, blood thirsty and has a will for power, poor old Cornelius does not know what hit him.
I also liked the location of the story, Hopwas wood, dark paths leading to the dreaded pit and the gypsies were an intriguing part of the story.
It made a refreshing change from reading authors from the USA which have most of their settings in the US. Guy N. Smith knows his stuff, he was born in Hopwas!!
Give this book a shot, you are getting a beautiful production and a classic horror story to go with it, all with a fantastic price tag.
If you like it, I see MHB are going to be publishing 'Werewolf by Moonlight - the first in the werewolf trilogy' and the old softcover goes for £32 and more! I can see my Guy N. Smith collection building with beautiful hardcovers at affordable prices.
Here are some pics of 'The Sucking Pit'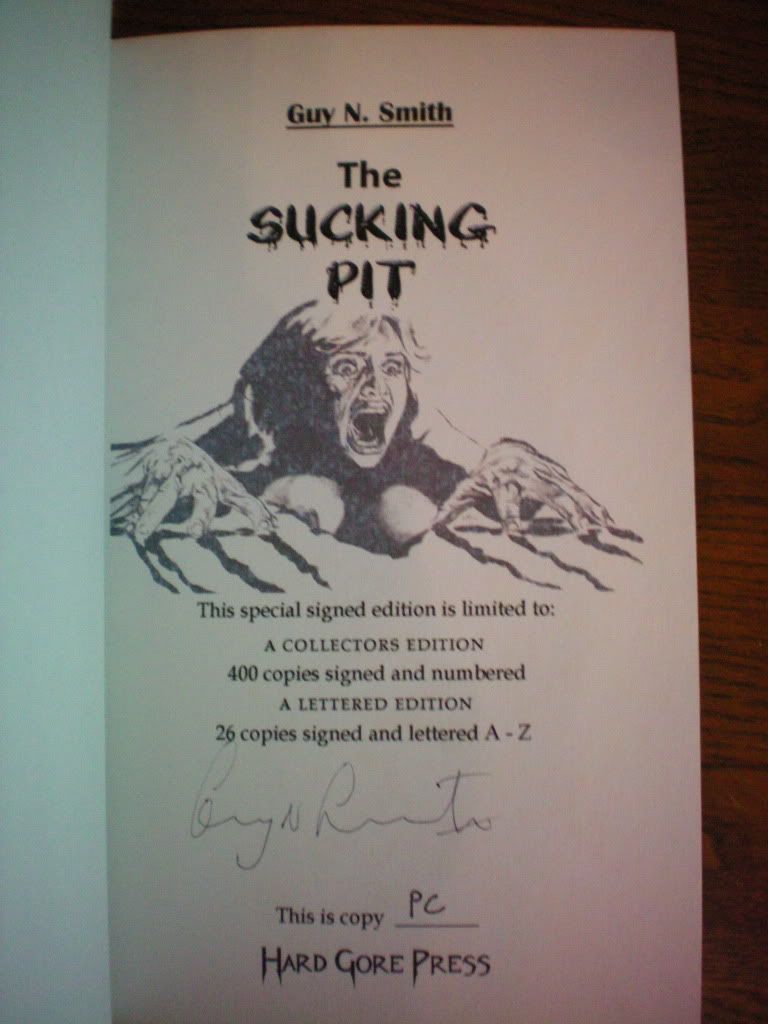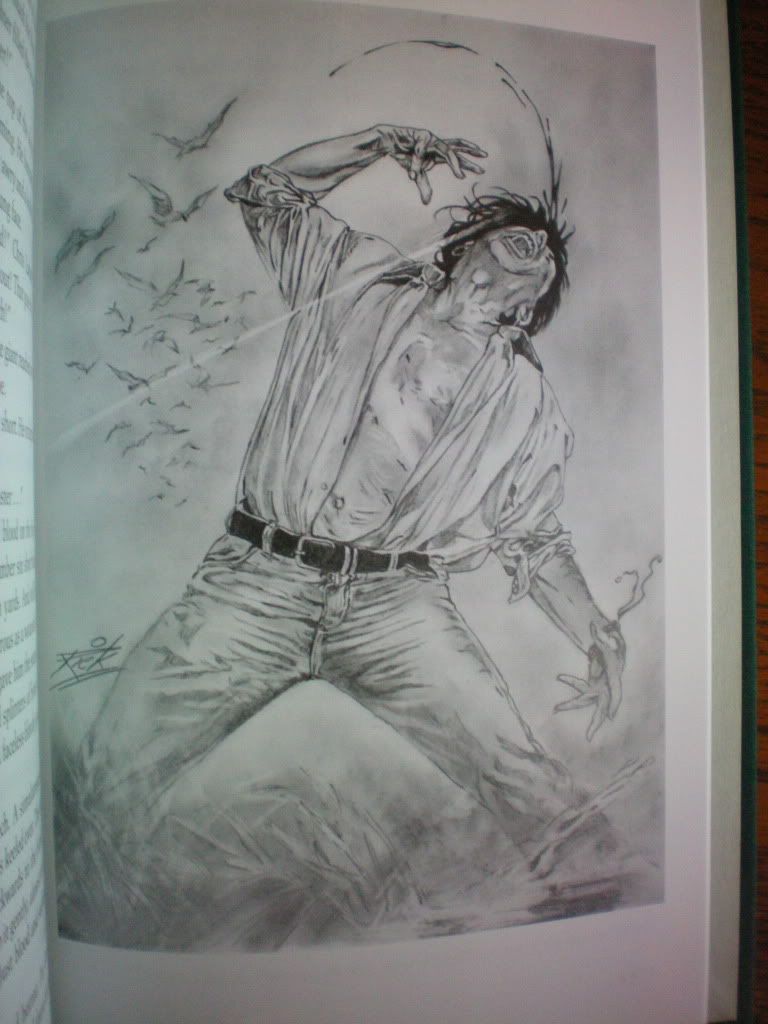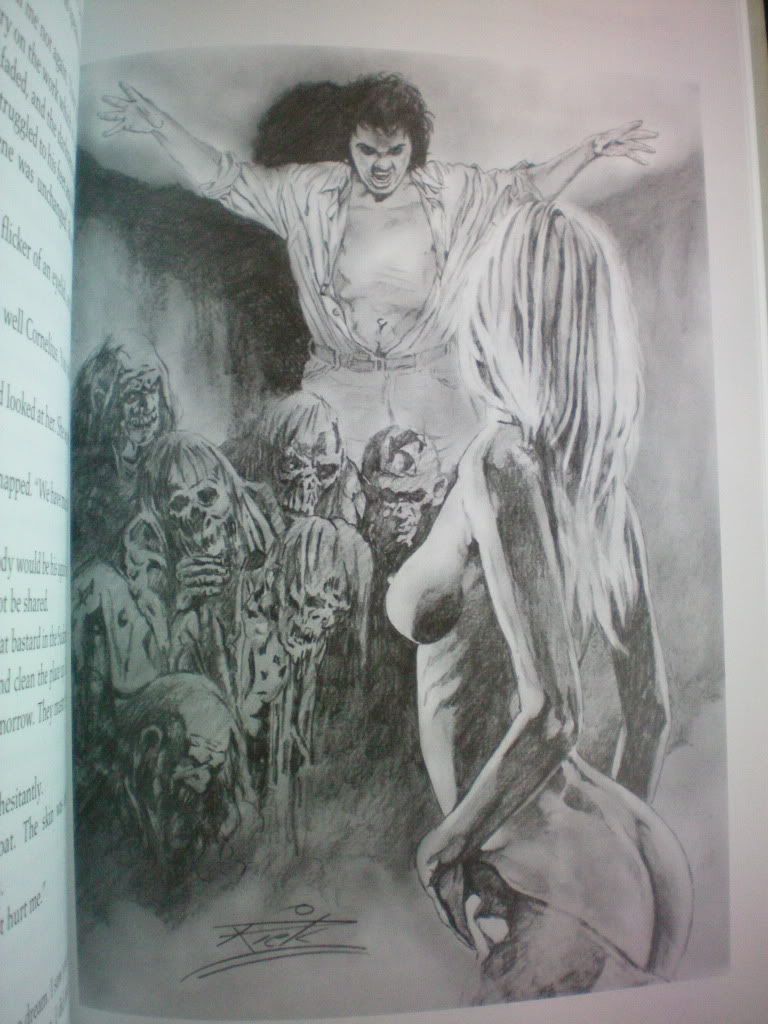 Thanks for checking this out!
Jason.