MHB Press / Hard Gore Press
I live in England and would like to introduce you and talk to you about a press from England. You may already know them and you may have bought from them.
I was lucky enough to acquire a book published by Hard Gore Press called "Grease Monkey and other tales of Erotic Horror" by Graham Masterson and was quite blown away.
MHB Press (Mansion House Books) and Hard Gore Press are the same publisher. They both specialise in finely bound signed limited editions of "out of print" and classic works of horror and erotic horror and let me tell you that when "Grease Monkey" arrived and was in my hands, I knew straight away the book was something special. What struck me first was the packaging, the book was so well protected you could drop it from the Empire State Building and see no damage to your book (now that's what every collector wants to hear.) The book itself comes in the publishers own shrink wrap, it's then wrapped in the publishers personalised wrapping paper, then it's bubble wrapped, then boxed and finally over the box is a padded envelope! Wow, you know the publisher cares about his books! For me this blows all other publishers out of the water, hell you need to buy a book just to see the bloody packaging! Yes it maybe a little over the top but I like the fact my book will arrive in pristine condition.
There are normally three choices available with most of MHB Press / Hard Gore Press books and they are as follows: Collectors Edition, Deluxe Edition and Lettered Edition. More information and the differences between these books can be found here:
http://http://www.mhbpress.com/Book_Binding_101.html
Here is some photos of my Collectors Edition: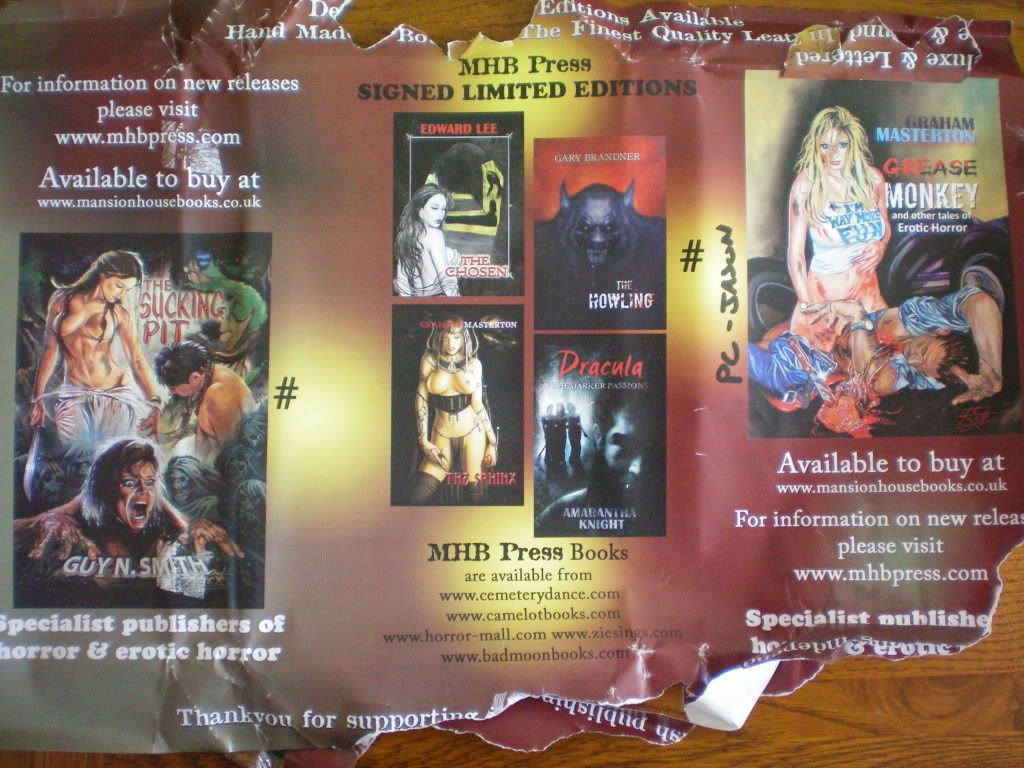 OPENED WRAPPING PAPER!
SIDE VIEW OF ACTUAL BOOK
SIGNATURE PAGE
ILLUSTRATION
There are many illustrations throughout Grease Monkey, the above is just a taster, there is one for each story.
I am reading Grease Monkey now and will return with a review and my thoughts of the stories, so far they have been nothing but excellent!!!