My collection's in the downstairs office/den. The designers/builders wanted to include a closet in order to call it a 4th bedroom...so the first shot is that closet.
The bookcase in the closet with the sectioned glass doors holds all my anthologies, most signed/limited hardcovers; the books lining its top are hardboiled and noir fiction anthologies. The open bookcase is a mish-mash of reference books, trade-paperbacks...but mostly vintage and modern-day noir/crime paperbacks (there's a framed Black Lizard Books poster behind the motorcycle).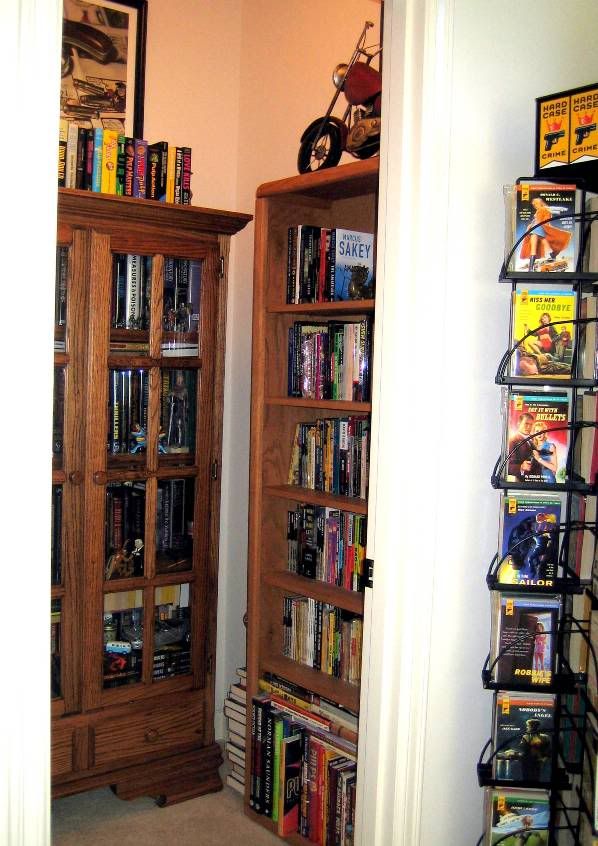 This second shot is the east wall (1st bookcase A - B, 2nd B - G, 3rd G - K, and 4th La - Li), all hardcovers (with a few chapbooks throw in for good measure), most collectible and/or signed. There's also a pb spinner that I picked up from Borders' recent clearance sale that holds my full run of Hard Case Crime (and there're some other select vintage noir paperbacks in there as well). Also, the metal traycases on the 1st, 2nd and 4th (film canister) are all Necessary Evil Press lettereds.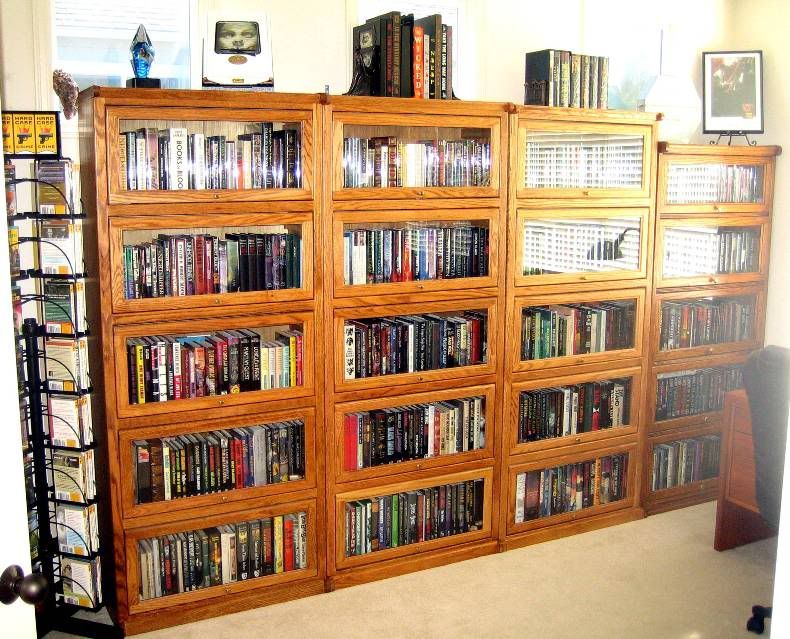 This last shot is the west wall (1st bookcase Li - N, 2nd N - T (with my full run of the S/L CD HC novellas thrown in), and 3rd T - Z), all hardcovers (with a few chapbooks throw in for good measure), most collectible and/or signed. The leather law books on the 2nd bookcase are my grandfather's (as is that massive dictionary on the first bookcase (which also has a signed William F. Nolan poster)), and the books on the 3rd bookcase are all pulp-reprint collections or anthologies, another niche interest of mine. To the right of that last bookcase would be the room's entrance with the french doors. Based on how much time she spends there, my dog underneath the desk seems to love the room as much as I do.
My overflow of (mostly) non-collectible hardbacks and paperbacks are all upstairs in three other smaller bookcases (two in the loft, one hanging on the wall in the rec room). Sorry, no pics of those on hand right now.
For those interested, you can virtually browse my 2100'ish-volume library by going here, and clicking on the blue "Book Database - Complete" link.
https://skydrive.live.com/redir.aspx...70C69411B0!118