Hello, everyone! Just wanted to let you know about our new press, Sinister Grin Press. We are officially launching the press this year in Vegas at Killercon. If you're going to be there, be sure to come hang out with us!
Here are our current projects coming out at the beginning of October, with much more to come in 2012.
Cut Corners Vol. 1 (Chapbook series)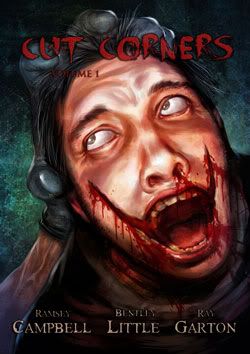 We'll be putting out a new chapbook every year!
Sacrifice by Wrath James White (Paperback)
"Las Vegas Homicide Detective, John Malloy, hates the weird cases, the difficult ones, the kind that make the cover of tabloids, the kind that make or break careers. He's had enough weird cases to last him a lifetime. So, when a man is murdered in Green Valley, eaten alive by his own dog along with half the pets in the neighborhood, he knows this is going to be a bad one. The next day, an elementary school teacher is beaten to death by his students while being stung by thousands of bees. Then an ex-football player/heavyweight prizefighter is reduced to blood and bones by a swarm of insects, rats, dogs, cats and angry children. All over town, little girls are going missing and turning up starved, dehydrated and nearly catatonic. Somehow, it's all connected and it's up to Malloy and his partner, Detective Mohammed Rafik, to figure out how, and how all these deaths and disappearances are connected to a mysterious voodoo priestess named Delilah with the power to take away all of your hatred … all of your fear … all of your pain."
Our first signed limited edition hardback, The Killings by J.F Gonzalez & Wrath James White, will be out early 2012! We'll post more as we get it.
And be sure to check us out on Facebook and our website,
www.sinistergrinpress.com